Here's my review of Elicina Plus! Loads of thanks to Elicina again, for sponsoring me with this NATURAL SNAIL CREAM!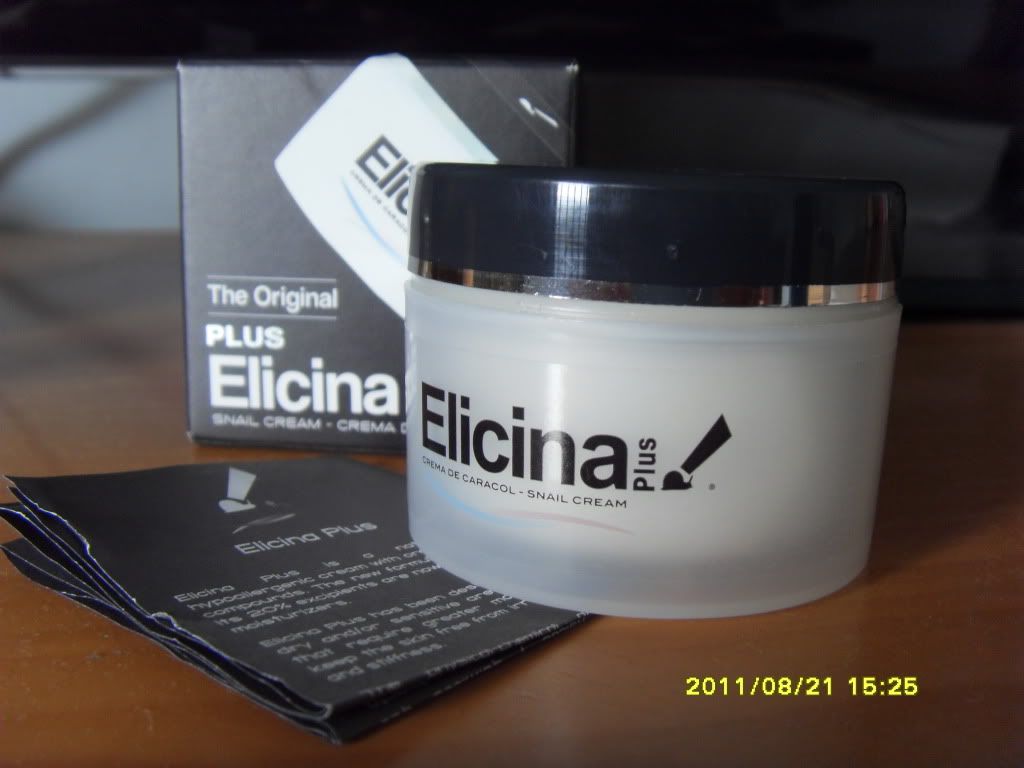 Elicina Plus is tightly sealed to ensure maximum hygiene! I realised that the seal is also useful for preventing the cream from clinging onto the cover. So DO NOT peel it off!
Yikes!! I pulled off the seal too violently I guess...now some of the cream is spilled out! o(╥﹏╥)o
Learn from my mistake guys!!! Tap the bottom of the jar against the tabletop before opening the seal!
* Psst...there will be a mini-giveaway sponsored by Elicina exclusively for Be Gorgeous, Stay Gorgeous's readers....stay tuned to find out more*
Use a spatula to remove a sufficient amount of Elicina Plus snail cream. This is for hygiene purposes too!
Actually, this amount of cream is MORE THAN ENOUGH for the scars and acne on my face. Just apply really lightly over the scars, wrinkles, stretch marks and acne will do.
Apply the cream onto cleansed skin. (Once again, this amount of cream would be too much....I am only using the cream that has spilled out to demonstrate how to use Elicina Plus)
For the best results, apply Elicina Plus to targeted areas twice a day (morning and night).
ALERT!!!: More is not better. Do not apply Elicina Plus for more than twice a day as there could be excessive and unnecessary peeling.
(Elicina Plus is an exfoliating cream which uses Glycolic acid to exfoliate the targeted areas for deeper penetration of the product)
Look at how fast the cream is being absorbed by my skin!! Elicina Plus is actually highly moisturising. This is good for reducing the appearance of scars as the skin is kept free from irritation, dryness and stiffness. (Massaging the cream into your skin helps too!)
In fact, Elicina Plus is enriched with more moisturisers than Elicina (pioneer version)! Elicina Plus is 80% organic snail extract and 20% moisturisers.
Another plus-point about Elicina Plus is that the skin does not feel sticky after application of the cream.
♥

Here are some areas where I've applied Elicina Plus --- pimple scar (face) and abrasion scar (foot).
There are really results as I see that those areas have lightened slightly, though not significantly. I'll just have to continue applying Elicina Plus....Consistency is key!
Different types of scars also require a different period of time to fade away. A scar that is left behind after a major surgery (those that look like a thick wrinkled cord with a darker pigmentation) would require a longer time to recover. With Elicina application on these queloids twice a day, the pigmentation should resemble that of healthy skin, and the cord would become smaller.
Now here's a potential Mother's Day gift.